Charleston Workers' Comp Lawyers
Injured on the Job? Call Our Firm at
(843) 968-0886

!

Pierce, Sloan, Kennedy & Early LLC has been helping injured workers with their workers' comp claims since 1999. We understand how frustrating it can be to suffer an injury on the job, which is why we are just a phone call away. Our firm knows what steps you need to take following an accident to ensure you remain eligible for workers' compensation benefits and can pursue the maximum recovery possible. Having recovered millions of dollars for our clients - including multi-million dollar recoveries - we can put our experience and resources to work for you.

Why Do People Choose to Work with Pierce | Sloan?
Excellent Communication - We keep you updated on the status of your claim and are always accessible
Client-Centered Counsel - We focus our practice on building strong relationships with our clients and how to better serve their needs
Commitment to Results - We work hard to recover the highest compensation possible
Experience - We are trial-tested attorneys who are always prepared for trial
When Should I Hire a Workers Comp Lawyer?
In the State of South Carolina, you have two years to file a worker's compensation claim, beginning on the date of your accident. Worker's compensation cases can be highly complex. You may want to hire an attorney if any of the following apply to you:
Your claim is denied
You have trouble getting the treatment you need
Your permanent disability rating is disputed
You ability to work has been affected
You are having a worker's comp hearing
If you have experienced any of the situations listed above, you may benefit from the expertise of a worker's compensation attorney. Not only does the team at Pierce, Sloan, Kennedy & Early LLC have the experience to help you understand the complexities of your case, our attorneys can walk you through each step of the process.
What Is Workers' Compensation?
In South Carolina, employers are legally required to carry workers' compensation insurance so long as they have at least 4 regular full-time employees. If an employee sustains a work-related injury or illness, workers' compensation provides benefits that can facilitate their overall recovery process and effectively mitigate their financial losses, including medical benefits, wage benefits, and temporary or permanent disability benefits. Because South Carolina is a "no fault" state, employees don't need to prove employer negligence in order to receive benefits.
Workers' compensation insurance covers:
Injuries sustained while performing a job-related task
Job-related injuries sustained outside the workplace
Illnesses sustained due to the nature of the job
Advocating for Victims of All Types of Workplace Injuries
Whether you were involved in a slip and fall accident or heavy machinery accident, we are ready to take on your case. We know how to investigate the details of your workplace accident and can ensure you are given the maximum benefits you deserve. If necessary, we can pursue a claim against a negligent third party in addition to your workers' comp claim to ensure you get the fair recovery you need.
We represent clients who have suffered the following types of injuries:
Head injuries
Back and neck injuries
Carpal tunnel syndrome
Paralysis
Knee, elbow, and shoulder injuries
Most Common Workplace Injuries
While some workplaces are significantly more hazardous than others, all workplaces do have the risk of at least some forms of injury. Knowing the most common injuries that occur at work, employees and employers can take steps to reduce the incidences of these injuries and increase the safety of their worksite. Below are the top 10 most common injuries employees sustain at work.
Overexertion Injuries
By far, the most common workplace injuries are overexertion injuries, related to pushing, pulling, carrying, holding, and throwing activities. This is not only the leading injury, but the most expensive. Employees should be careful when using physical labor at work and wear appropriate braces to protect their bodies.
Slipping/Tripping
Falls from heights should be a concern, but even a simple slipping or tripping accident can badly injure an employee. It should be an important company practice to remove tripping hazards, clean up spills, and mark dangerous footing to avoid these accidents.
Falling From Heights
Any employee working off the ground or near trenches, pits, or stairs can suffer a fall from heights. Body trauma, head injuries, and other medical issues can be sustained in a fall. All employees who are working at heights should wear personal fall protection. It is also important to check all railings, handrails, and other fall prevention equipment for safety.
Reaction Injuries
These injuries can be hard to predict and prevent, since they are sustained when an employee reacts to an event, such as slipping or tripping. If an employee loses their balance but manages to avoid falling, they can still be injured from the strain of catching themselves. Employee diligence is the best way to prevent these injuries.
Falling Object Injuries
Objects can fall from shelves, be dropped by others, or even become dislodged from trees, buildings, and other high places. If falling objects strike an employee, significant injuries can occur. Head injuries are a common result of these types of accidents/ Employee diligence, policies regarding unsecured objects, and proper personal protection gear can help reduce the chances of these injuries.
Walking-Into Injuries
The basis of much slapstick comedy, walking-into injuries can result in significant injury. When employees walk into objects, such as doors, cabinets, low-hanging beams, or other hazards, it can result in injuries ranging from bruises to fractures and even concussions.
Vehicle Accidents
If employees drive for work or work around vehicles, it is possible for vehicle accidents to occur. Employees should be trained in defensive driving techniques and wear brightly colored clothing and be aware of vehicles when working around them.
Machine Entanglement
While this may bring to mind heavy machinery at factories, machine entanglement can also be a hazard at other work sites. These injuries happen when clothing, shoes, fingers, hair, or other body parts are entangled in a machine. These injuries can be very severe, depending on the machinery involved. Protective gear and other precautions can prevent these injuries.
Repetitive Motion Injuries
These workplace injuries are far less obvious, but they still can cause significant injury. Repetitive motions can occur in almost any workplace, from activities such as typing, filing, cutting food, and other repetitive motions. These injuries can lead to eye strain, muscle and tendon strain, back injuries, and joint injuries. Ergonomic equipment and employee training can help reduce these injuries.
Workplace Violence
Whether it's office politics or an angry customer, workplace violence can cause serious physical and emotional injuries. Companies should provide employee training to help employees spot the signs of a potential issue before it can progress.
Reasons for Workers' Compensation Claim Denial
Unfortunately, valid workers' compensation claims can be denied for a variety of reasons, leaving employees in a difficult and vexing position. After all, how can they pay their medical bills when their injuries prevent them from working? Fortunately, it is possible to appeal a denied workers' compensation claim in South Carolina. But it's important to understand why you claim could have been denied first.
Your claim can be denied for the following reasons:
Your injuries don't warrant workers' compensation benefits
Your employer denied your claim
You can't prove that your injury was work-related
Your claim was improperly filed
You didn't notify your employer about your injury
Your claim was not filed according to the statute of limitations
Your injury was caused while you were intoxicated
You were engaging in negligent behavior that violated safety protocols
Your injury is self-inflicted
The most common reason a claim is denied is because an injury wasn't reported correctly or in a timely manner. Once your doctor has verified your injury or illness, you need to notify your employer in writing and file a claim with the Workers' Compensation Commission (if your employer doesn't do it for you). If necessary, your family or friends can notify your employer on your behalf.
Like any claim, there is a statute of limitations when it comes to filing for workers' compensation benefits. In South Carolina, you have 2 years to file a claim for a work-related injury or illness. However, it's important to note that South Carolina law prohibits coverage for heart attacks, stress, mental injuries, strokes, and aneurysms unless they are accompanied by a physical injury.
It's also possible that your employer may challenge your claim and hinder your access to benefits. In most cases, this is because an employer doesn't want to pay for increased premiums. At Pierce, Sloan, Kennedy & Early LLC, our Charleston workers' compensation attorneys can represent your interests and help you fight for the benefits your injuries warrant.
Appealing a Denied Workers' Comp Claim in South Carolina
If your claim is partially or fully denied, you can file an application for a hearing before the Workers' Compensation Commission. At Pierce, Sloan, Kennedy & Early LLC, our Charleston workers' compensation lawyers can litigate on your behalf to help you secure these essential benefits. We can guide you through the entirely of the appeal process and even represent your case to the State Appellate Courts. We can also help you pursue a personal injury claim against a negligent third party to ensure that you secure the damages you need to safeguard your quality of life.
Don't Wait—Take Legal Action Today
At Pierce | Sloan, we make sure our clients always come first. With years of experience and insight, we know how to take on even the most complex and intricate cases, crafting strategic solutions on our clients' behalves. If you are in need of reliable counsel during this time, we encourage you to reach out to our compassionate Charleston workers' compensation lawyers. With our team on your side, you can rest assured knowing you have seasoned representatives who will do everything possible for your case.
Have questions about filing for workers' compensation benefits or pursuing a third party claim? Call our firm today at (843) 968-0886 to get the answers.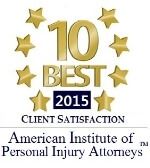 Recommended Reading